My name is Emily Rivers. I am very excited to be working with the Muckleshoot Tribal School! This is my second year here and I have so many ideas that I cannot wait to share with everyone!
I received my Bachelor's degree is from Central Washington University in Psychology in 2019. I received my Master's degree from City University of Seattle in Professional School Counseling in 2021.
As the middle school counselor I address the developmental needs of all students through a comprehensive school counseling program in the areas of academic, career, and personal/social development through classroom guidance, individual student planning, responsive services, and system support – working with students through school-wide events, in the classrooms, in small groups, and individually.
Students will have access to lessons, materials, resources, and activities through Google Classroom. It is also through Google Classroom that they can make appointments to come see me during the day!
I am here to help students be successful. I look forward to working with you and your students! If you have any questions or concerns please feel free to contact me via email (emily.rivers@muckleshoot.com ) calling my desk phone (253-931-6709*3826), or calling/texting my work phone (253-281-8164).
Let's rock the 2022-2023 school year together!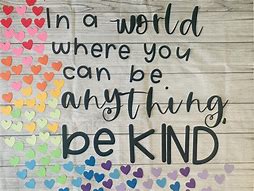 Let's celebrate ourselves and others this month!
Course Selection
All 5th-8th grade students will be submitting a form to choose their electives for next year. 7th and 8th grade students are also going to create a high school course plan! Links are in their School Counseling Google Classroom!
Crystal Mountain
8th grade students are taking their Thursday science class up to Crystal Mountain! It's an amazing opportunity to see science concepts in action while also learning foundational SEL skills like perseverance, growth mindset, and so much more!
Xello
Students will start exploring Xello as a college and career readiness tool. This will also be used for High School and beyond Plans!
Bullying
We will be revisiting anti-bullying concepts including being able to identify bullying, the types of bullying, the effects of bullying, and some ways to stop and prevent bullying